This is a great pattern to use when fly fishing for Smallmouth Bass in early spring. When the little frogs known as spring peepers come out to play, so do the smallies. Here in Asheville, NC this pattern has produced for us time and time again on our freestone rivers the Nolichucky River & French Broad River. We tie the majority of our smallmouth bass flies which are provided on our guided fly fishing trips and free of charge.
There are several things that mark the beginning of spring. The weather starts to shift to a warming trend, the daffodils pop and the riverbanks, swamps, lakes and forests are humming with life. Spring peepers also mark the beginning of spring and are distinguished by a dark X-shaped marking on their back. They are most often heard in the evenings and are among the first frogs to sing "it's spring." Wikipedia says they have a body length between less than 25 mm (0.98 in) to 38 mm (1.5 in) and a mass between 3 and 5 g (0.11 and 0.18 oz.). They vary in color but tan and brown are most common. This version was done in chartreuse for murky water conditions and because smallmouth either love or hate the color, you decide which.
HOW TO TIE
"Hot Randy's Spring Peeper"
By Rand Harcz
MATERIALS
Size #2 Gamakatzu B10S stinger hook

1/2 of a 1" Tarantula EP Brush

5 Crazy legs

1 size medium Cohen's paddle tail

1 size small double barrel popper head
MATERIAL PREPARATION
Go ahead and cut your a whole EP brush in half, then cut that piece in half again. You will now have 2 quarter pieces of your EP brush
We are also going to cut our Cohen's paddle tail in half. We are going to be using the fatter side for this size frog. Save the other half if you want to tie smaller frog patters with size 4 hooks and small double barrel popper heads.
Pull off 5 rubber legs keeping edges intact. Stretch legs out and visualize where your knots will go, typically a quarter of the way in from each end. Tie in simple over hand knots with all legs then snip off outside ends. Continue by following the steps below.
Retrieve large piece of Cohen's paddle tail.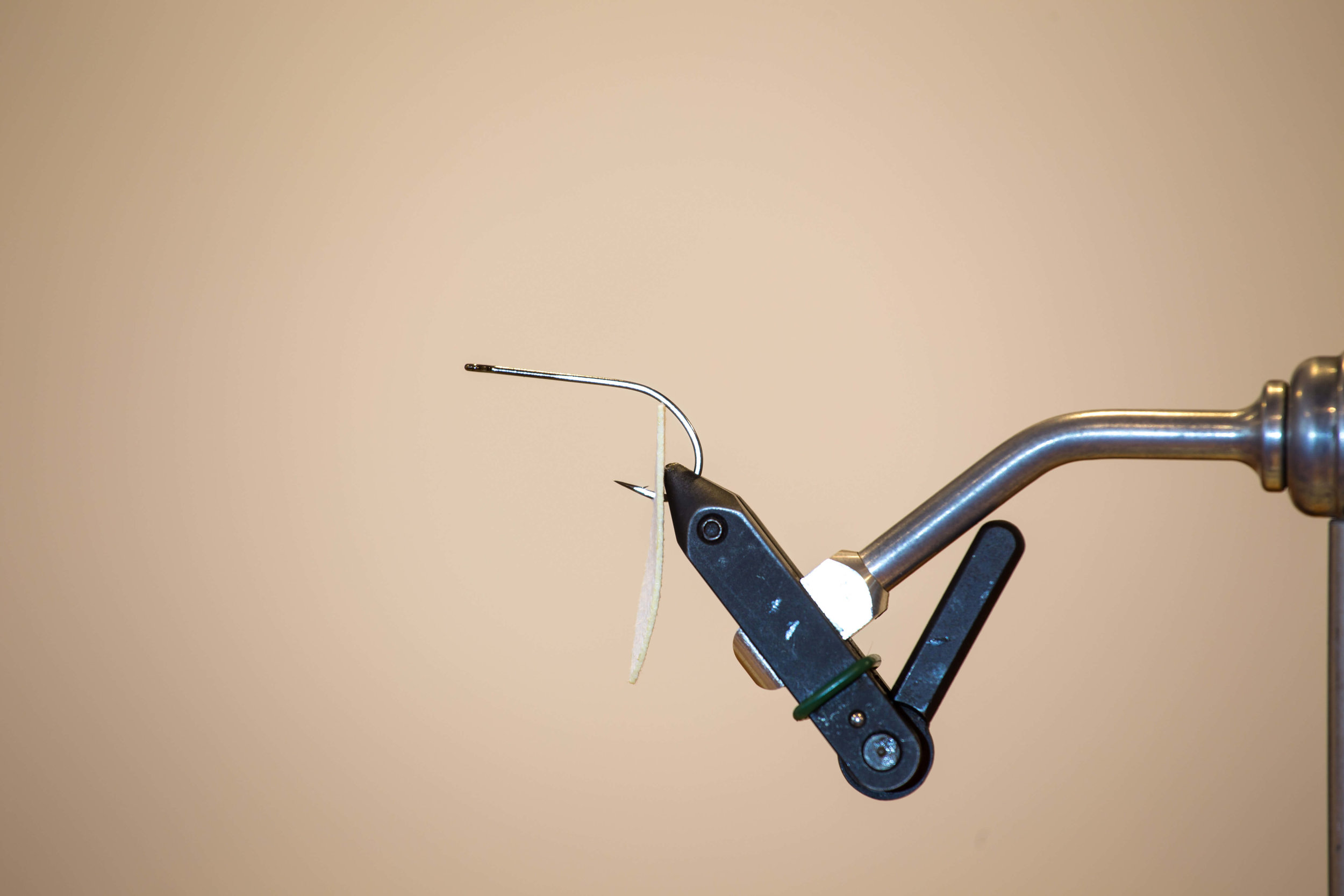 Puncture paddle tail onto hook in center of cut side about a 1/3 of the way down.
Take hook out of vice and slide up hook, tie down point will be above hook barb.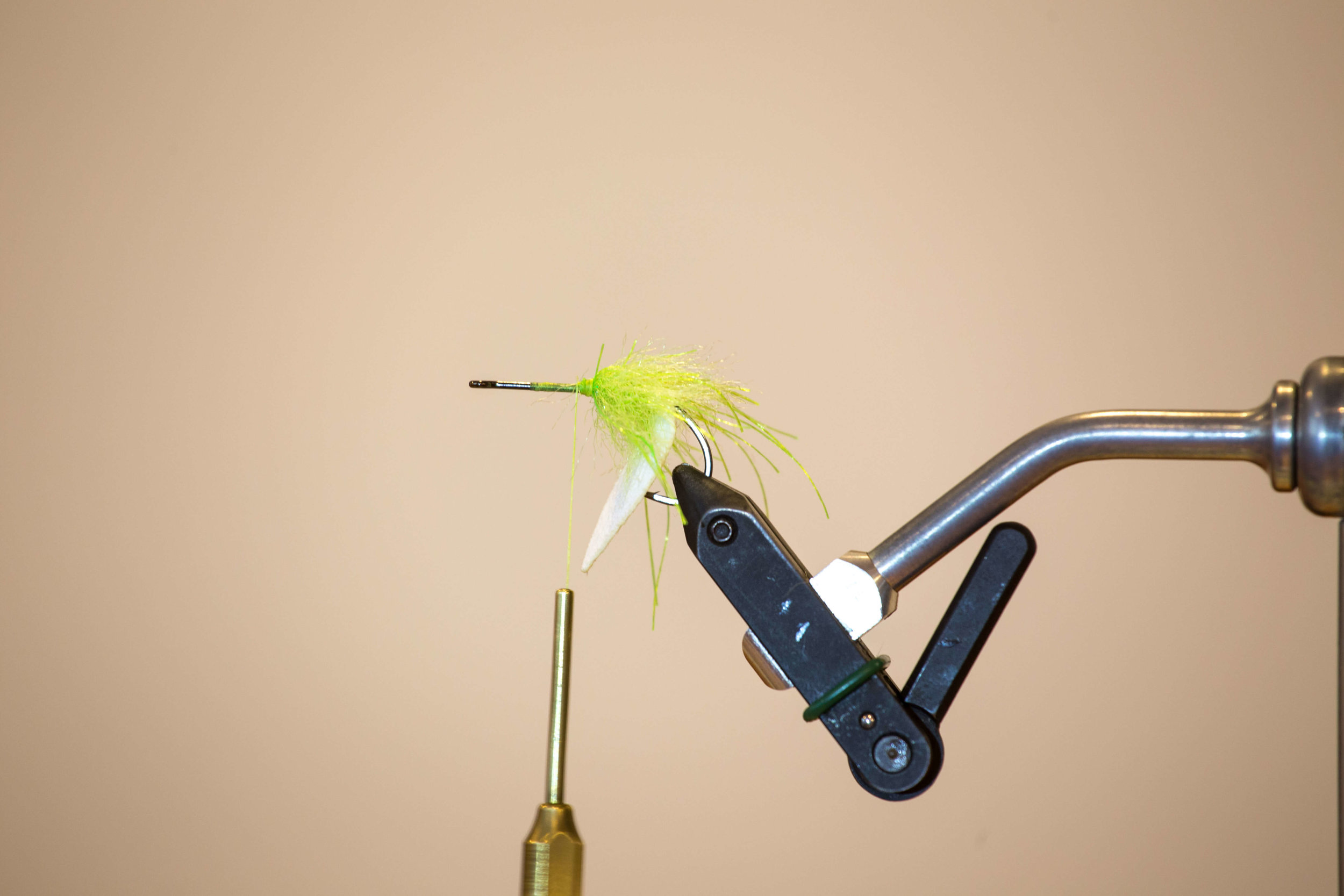 Tie in first piece of EP brush above hook barb and palmer up hook.
Retrieve prepped legs and tie in the middle making legs fold back and centered.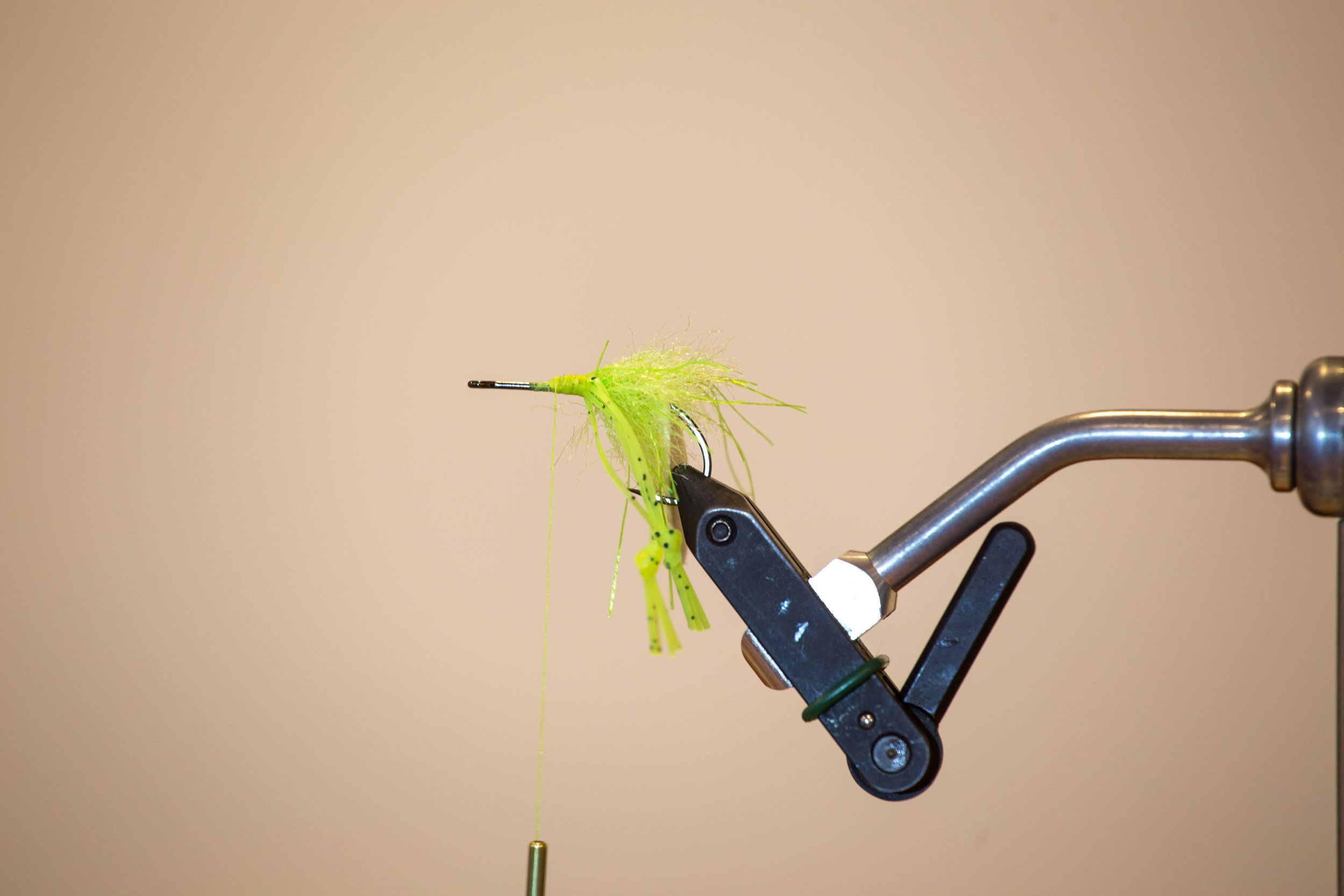 Adjust to liking and bring thread back to center of shank.
Tie in last piece of EP brush and palmer up hook shank.
Rotate vice and comb out EP brush parting in the middle.
Fold the piece of Cohen's paddle tail forward creating the belly and tie down. Trim as cleanly as possible.
Rotate vice to upright position.
Insert double barrel head. I heat up a bodkin with a lighter to make it easier to put a hole through the double barrel head. Coat the thread with glue of choice and slide on shank.
Rand Harcz is a guide, fly tier, and accomplished professional fly fishing photographer for Southern Culture On The Fly, a popular fishing magazine based in Asheville NC. Being a fisherman and photographer allows Rand to connect two of his passions, art and nature. Rand is a true lover of the outdoors and is right at home when he is on the water whether it is fishing, rowing, or photographing. He is excited to share his love and knowledge of local fisheries with others. Seeing others enjoying nature is what truly inspires Rand as fishing guide. Click here to view Rand's guided trip photos.